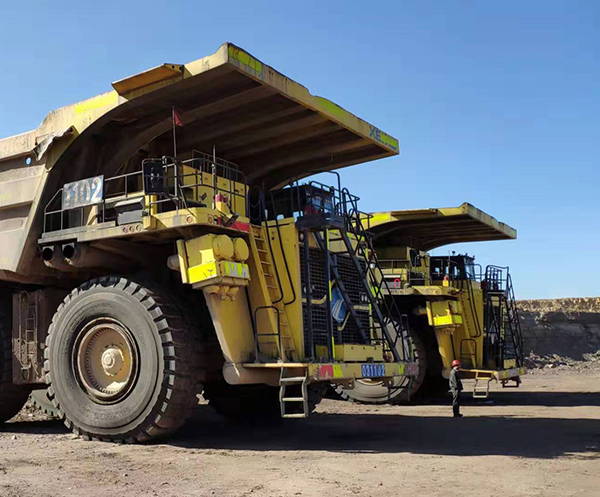 Another mining company who cooperates with Haian Rubber Company for long time sending back the photos of dump trucks with Luan OTR Tires,they're very satisfied with the performance of Luan Otr Tyres for its ultra wear resistance and cutting resistance. Thanks to site visit by Haian' professional engineers, we got to know the detailed information about the environment of mines,road conditions and trucks operations,etc. So our technology R&D center customized the compound of cutting resistance to suit for the mine site of our customer.And select the HA688 pattern that owns excellent self-cleaning ability.
53/80R63 Giant OTR tires manufactured by Haian Rubber are massively used on this open-pit coal mine to maximize its function. Our technical engineers takes regular site visit to inspect the operational aspect of Luan Tires. Haian's engineers also would provide repair and retread service if our customer needs. In a word, Haian Rubber Company has always our service tenet: Our service just starts the day tyre shipped!
Features of HA688 Pattern:
1.Brand-new pattern design make it own excellent self-cleaning ability.
2.The large tread blocks help tyre owns better road traction and cut resistance.
3.Perfect running capability.
4.Suitable for different mine and road condition.