To maximize tyres performance, the rear axles of dump trucks should be equipped with tyres of the same sizes and model. The front axle must not be equipped with different models of tyres. If new tyres to be mounted on dump trucks to replace the worn ones, you should strictly refer to the tyres' outer diameter to choose tyre. The dimension of tyres should not exceed data specified in below chart.
Tyre Size

Deviation Limit

Outer Diameter

Circumference

Rim Dia≥49inch

≤24mm

≤75mm
When tyres are mounted on the rim and inflated the tyre up to the recommended working pressure, the measurement of the outer diameter of tyres is subject to the tyre circumference. Circumference is measured with a tape to measure the centerline of tread. It is essential that dual tyres have the same overall diameter. Otherwise the one with larger size will carry most of the load and will be prone to damage and wear. If the difference in outer diameter is extremely large the smaller tyre slips and scrapes along the ground, causing the center of the tread to wear quickly. Generally speaking, the larger tyre will be heat separated due to overloading.
Process of measuring tyre dimensions on truck:
☞Firstly, check the tyre inflation is standard or not;
☞Secondly, measure whether the dual diameter is the same, by placing an angled square across two tyres as Fig. 1, or tightening the cord of two tyres like Fig. 2.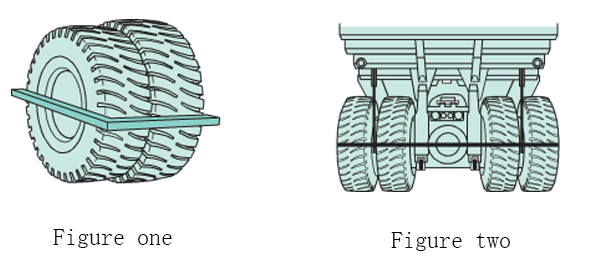 ★Notice:
☞For safe driving, it's strictly forbidden to mount radial tyre and bias tyre together;
☞Never mount the repaired tyre or retread tyre in front position;
☞Please rotate the front tyre to the rear position when the tread wear over two thrids of its OTD.