Before Mounting:
☞Clean all components of the tyre, rim and valve;
☞Remove the packages and inspect all parts of tyre and rim. Completely cleaning of dirt and corrosives, especially in the grooves;
☞For each tyre replacement, new O-ring are requested;
☞Tyre replacement should be operated on designated tyre bay to make sure the rim parts are load stable and even;
☞Keep the tyre internal clean and dry.
Mounting Steps:
☞Firstly make sure no cracks&deformation of rim,flange and the lock ring,clean the components;
☞Fix the rim stable on the brandreth;
☞Clean the rusty on the rim (Keep grooves in lock ring and seal ring very clean);
☞Replace the valve seat and seal ring and make sure the air tube are unblocked;
☞Evenly oil the rim;
☞Clean any dusty or water inside the tyre;
☞Paint the rim oil on the beads.
☞Put the tyre onto the rim base and cap the flange on the tyre;
☞Clapse the pressing ring and press it in line with the out surface;
☞Put the seal ring into the groove(Note: Do not touch the real ring by hands if you find the ring wasn't inserted completely, but you can use crowbar);
☞Ensure the lock ring hammered in the groove of lock ring.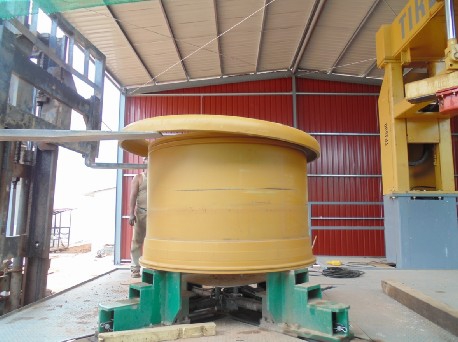 Photo 1: Rim installation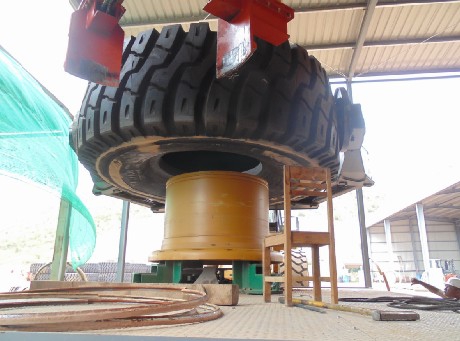 Photo 2: Put tyre onto the rim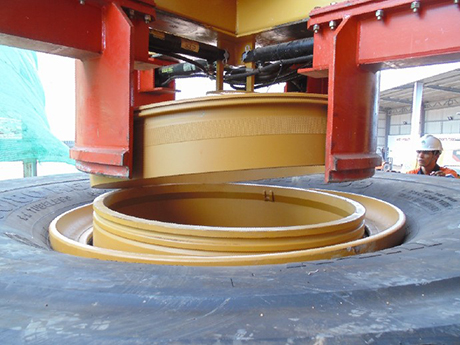 Photo 3: Mounting flange
Inflating:
☞DO not leave O-ring or components on the tyre when inflatio;
☞Make sure all components are fitted correctly before inflation;
☞All inflating procedures should be operated within safety zone where there is protective fence to avoid the hazard of tyre burst or air tube burst;
☞Never sit on or stand in front of tyre or rim. Serious hurt even dead may occurs if the parts fly apart with explosive force;
☞Never attempt to weld or fire on or near a tyre/rim assembly. Heat from these activities may result in explosion of tyre due to sharp rising of pressure.
After Mounting: Checking the air-tightness between tyre & rim
☞Ensure every parts below are tight enough: inner liner, bead seat, O-ring, valve stem and valve cap;
☞Place the tyre horizontally and the lock ring upwards, then insert the soap water into the groove of the rim.